---
Modelo: UVD-001

Adaptador de video analógico a digital por USB con software de edición
---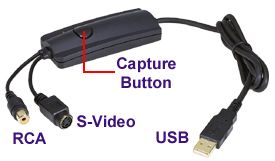 INTRODUCTION
The USB Video Adapter is the video capture solution for both still and full motion video. The USB Video Adapter acts as an interface to convert the analog video sources output to digital for further application and editing at the computer.
SPECIFICATIONS

Video input: 1 RCA composite, 1 S-Video.
Video output: Serial data for USB standard compliant.
Video Capture Size: 160x120, 176x144, 320x240,
352x288.
Snap Shot Mode: 640x480 pixels.
Performance: 30fps@ CIF size (352x288 pixels).
30fps@ QCIF size (176x144 pixels).
USB Bandwidth: 0.5 Mbps to 8.0 Mbps is
ochronous in 0.5 Mbps steps.
Power Source: 5VDC, 170Ma(max) though USB port.

SYSTEM REQUIREMENTS

CPU 166 MHz, 16MB of RAM, USB port
Supports Win 98 / 98SE / ME / 2000 / XP / Mac

HIGH SPEED

Up to 30 frames per second at CIF resolution (352 x 288 pixels). Frame rate and size is adjustable to suit your application.

SNAP SHOT

A single snap shot button takes still photos at VGA resolution (640 x 480 pixels). Great for desktop publishing or web publishing.

COMPRESSION

Utilize high speed hardware compression and software decompression to achieve the speediest video frame rates with low CPU usage.
EDIT MOVIES

Easy-to-use video editing software enables to make your own multimedia movie file. (AP and Driver included)
2 VIDEO INPUTS

Convert analog video to an AVI file. One RCA and one S-Video input provides up to 2 analog video sources (including VCR, camcorder, and PC camera). Supports both NTSC and PAL systems.

NO BATTERY

Powered by USB itself. No need to install batteries or run off the external power adapter. Power Save feature enables power conservation when not in use.

PLUG & PLAY

USB connection provides true plug and play, and hot pluggable capability. No more headaches with internal peripheral cards.
SMALL WONDER

With very small dimensions, USB Video Adapter is a very portable device for desktop and notebook PC. A breeze to transfer from PC to PC.
---
---